Keywords: Road maintenance, Flood risk analysis, GIS tools, Python training, Uruguay
This work has been funded by the World Bank
The team from Oxford was in Montevideo from August 20-22, 2019 to provide training and advisory support to different organisations to develop an implementable framework for roads risk analysis in Uruguay. The workshop provided evidence of the beginnings of proactive action needed for long-term climate risks assessment and planning.
What we did
The 3-day workshop was attended by participants from the Ministry of Transport, Department of Emergency planning (SINEA), and University of the Republic (UDLEAR). The workshop mainly focussed on providing hands-on training on how to work with spatial data and use spatial analysis tools. This training was done on flooding and road networks relevant to Uruguay. The participants were provided training on the open-source tool Quantum GIS (QGIS and Python programming language.
Results & insights
The participation of different organisations with the academic researchers was a highly positive step towards capacity building. The fact that personnel from Ministry of Transport were learning the tools was very encouraging to see, because mostly the biggest gap in such organizations is the lack of trained personnel.
During the workshop we learnt about new in-country datasets, extremely crucial for refining and conducting transport risks assessment, as they represent country information and context much better than global flood datasets that rely on downscaling information from global scales.
The workshop was conducted in a spirit of stimulating group learning, where the participants worked collectively with data and GIS methods. They made their own notes (in Spanish) of every analysis step, and it was decided that these will be circulated amongst the group to create a document of methods learnt during the workshop.
The workshop created the potential for a 'working group' of people with GIS knowledge. Stakeholders from different organizations were introduced to and familiarized with each other over the course of the 3-day workshop. At the conclusion of the workshop the participants were discussing ideas of taking this learning forward and maintaining contact beyond this workshop, for example in terms of shared online folders and regular meetings where stakeholders can discuss problems and identify opportunities for further work. This gave a lot of indication that establishing capabilities for undertaking transport risk assessment in Uruguay are beginning well and moving forward in the right direction.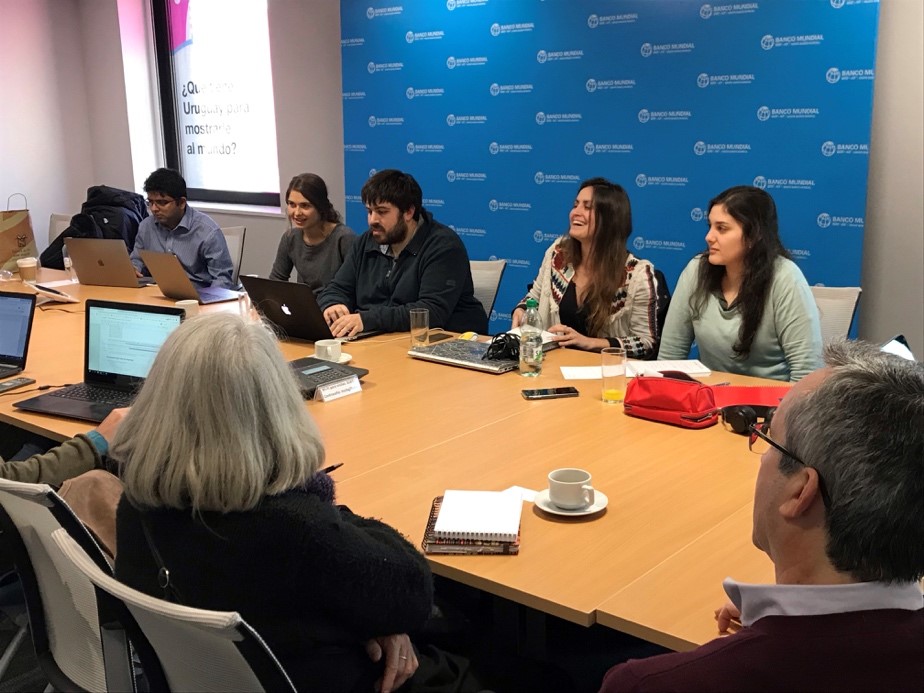 Oxford Team members Dr. Raghav Pant and Ms. Lena Fuldauer during the training workshop in Uruguay in August 2019 (Photo credit: World Bank)
Project duration:
August – November 2019
Institutions:
Environmental Change Institute, University of Oxford