RESEARCH SOFTWARE ENGINEERING
RESEARCH SOFTWARE ENGINEERING
Research Software Engineering (RSE) combines professional software engineering expertise with an intimate understanding of research. The ITRC consortium has established a research environment that recognises the vital role of software in research, particularly in the strands of simulation modelling and spatial analysis that underpin the core of our work. We have worked to improve the software skills of researchers involved in the consortium, and we have employed software experts – Research Software Engineers – who have worked in close collaboration with researchers, modellers and analysts throughout the project.
More broadly, research software engineering is supported by the Society of Research Software Engineers and the Software Sustainability Institute. Good software practices create better software, and better software improves the reproducibility and re-usability of research.
RESEARCH SOFTWARE ENGINEERING
Research software engineering techniques have made the integration of the NISMOD system-of-systems models possible, supported reproducibility of model results and have accelerated and supported research, simulation and analysis throughout the project.
NISMOD GitHub
Within ITRC, we organise and collaborate on software development through the NISMOD GitHub organisation, which allows us to work on both open-source, public code where possible, and closed, private projects where necessary.
Open Data
Model datasets and results are shared as open data through public repositories (FigShare, Zenodo) where possible, and from NISMOD-DB and cloud-based object stores with appropriate authentication and authorisation otherwise.
RESEARCH SOFTWARE ENGINEERING
smif
Simulation Modelling Integration Framework
nismod-db++
national infrastructure systems modelling database
RESEARCH SOFTWARE ENGINEERING
Global climate models suggest an increase in evapotranspiration, changing storm tracks, and moisture delivery in many parts of the world, which are likely to cause more prolonged and severe ... read more
RESEARCH SOFTWARE ENGINEERING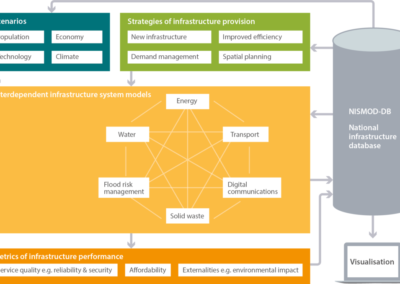 Infrastructure networks have been designed and evolved as sector-specific entities: electricity, gas, road, rail, digital communications and so on. They inevitably have interdependencies between ... read more
INFRASTRUCTURE
GOVERNANCE
RESEARCH SOFTWARE ENGINEERING